$14.99
AUD
Category: Fun | Series: Tom Weekly Ser.
Is your grandpa super-angry? Has your nan ever tried to climb Mt. Everest? Have you started your own playground freak show? And have you ever risked your life to save your pet rat from certain destruction? I have. I'm Tom Weekly and this is my life. Inside the covers of this book you'll read lots of wei rd-funny-gross stories and learn the secret of my strangest body part. But I guarantee that won't freak you out as much as the story of how Stella Holling, a girl who's been in love with me since second grade, tricked me into kissing her. ...Show more
$14.99
AUD
Category: Fun | Series: The Treehouse
Andy and Terry have added 13 new levels to their treehouse and now it's even more out of this world than before! There's a soap bubble blaster, a GRABINATOR (it can grab anything from anywhere at any time), a time-wasting level, a toilet paper factory (because you can never have too much toilet paper), a room full of mechanical grandparents, a super long legs level, an extraterrestrial observation centre and the best bookshop-in-a-treehouse-in-a-tree-in-a-forest-in-a-book in the whole world! Well, what are you waiting for? Come on up! ...Show more
$16.99
AUD
Category: Fun | Reading Level: 10-13
Albert (Lengy) Lengviriyakul, is fed up with being Thai. His parents own a Thai restaurant with the cheesy name of Thai-riffic! and Lengy is sick of being his father's curry guinea pig, longing to just eat pizza! At school he is a bit of a troublemaker, going to any lengths to hide his background. But w hen his best friend decides to become Thai for a day for a school project, Lengy stubbornly comes to the realization that there may just be some pretty cool things about his culture. ...Show more
$16.99
AUD
Category: Fun
I'm Raymond, and my school is a joke. It's full of bullies and troublemakers.My solution? Be a nobody and fade into the background.But our new principal has blown my cover because he's chosen me as a prefect!It was looking pretty bad, until I made a crazy promise to get new air con for the classrooms.No w I'm REALLY in trouble! ...Show more
$14.99
AUD
Category: Fun | Series: Toffle Towers Ser.
The fun and frolics continue at Toffle Towers when all of Alandale is snowed in, but guests' precious belongings start to go missing. Is there a thief staying at the hotel? To keep the Toffle Towers guests entertained while they're stuck indoors, and try to catch the culprit, Chegwin puts on a talent s how with a hefty wodge of cash as the prize. To make things worse for the Toffle Towers team, Brontessa Braxton is up to her old tricks again, and Chegwin must beat her in court if he's to save Toffle Towers from yet another takeover attempt. Will Chegwin come up with a plan in time? And will he ever find the missing room and the hotel's mystery guest? ...Show more
$15.99
AUD
Category: Fun | Series: Weirdo
HAPPY BIRTHDAY TO MEEEEE! Not only is it PLANET DAY, its also Weir Dos BIRTHDAY! And his partys going to be so HUGE youll see it from space! It wont be easy... but it will be FUNNY!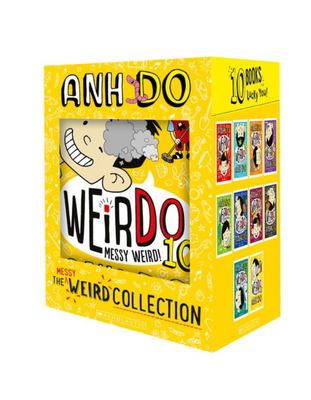 $110.00
AUD
Category: Fun
Weir Do's one of the weirdest kids in school. With an unforgettable name, a crazy family and some seriously weird habits, fitting in won't be easy... But it will be funny! The Messy Weird Collection-it doesn't get any weirder than that! Titles include: WeirDo, Even Weirder, Extra Weird, Super Weird, Tot ally Weird, Crazy Weird, Mega Weird, Really Weird, Spooky Weird and Messy Weird.   ...Show more
$16.99
AUD
Category: Fun
I'm Lengy and I'm Thai. My parents run a restaurant named Thai-riffic! but I'm always craving hot chips and pizza. Mum and Dad's idea of a holiday?Going to Thailand to visit all our relatives. Recipe for getting there? Survive Dr Needlemouse and his arsenal of needles Squeeze in a snappy budget trip to Dreamworld Catch a red-back spider for my Auntie Fight off a savage bat attack Celebrate Christmas, Thai-riffic style! Recipe for surviving the planning? A heap of good luck and plenty of THAI-NO-MITE! Phew! I'll need a holiday after this . . . This hilarious and bestselling author of Thai-riffic! brings us the next instalment of Lengy's adventures. ...Show more
$14.99
AUD
Category: Fun
From a dog who accidently becomes the first animal on Mars, a hopeless chess player dealing with his sports-mad dad, and a girl whose dreams are getting too big for her bed, to a boy who has had 1000 names - so far. Not to mention, the strange boy who never seems to get brain freeze (until...), these sh ort stories will blow your mind. ...Show more
$16.99
AUD
Category: Fun | Series: Dork Diaries | Reading Level: Children's - Grade 4-6, Age 9-11
Nikki Maxwell's favorite fairy tales get dork-tastic twists in the eighth book of the #1 New York Times bestselling Dork Diaries series! After a bump on the head in gym class on April Fool's Day, Nikki has a wild dream in which she, her BFFs Chloe and Zoey, her crush Brandon, and mean girl MacKenzie al l end up playing the roles of some familiar classic fairy tale characters. Of course, the stories don't go quite as expected--because they each have a very special Dork Diaries spin! The Dork Diaries series has more than 13 million copies in print worldwide! ...Show more
$16.99
AUD
Category: Fun | Series: Dork Diaries
Nikki Maxwell, Queen of the Dorks, is back in the twelfth instalment of the bestselling series! Now with over 30 million copies in print worldwide!
$16.99
AUD
Category: Fun | Series: Dork Diaries
Nikki Maxwell's summer is packed with drama in this fourteenth installment of the bestselling Dork Diaries series - now with over 45 million books in print worldwide! Nikki and her bandmates are looking forward to an AWESOME summer on tour as the opening act for the world famous Bad Boyz! Nikki is a li ttle worried when her frenemy, MacKenzie Hollister, weasels her way on to the tour. But she has a total MELTDOWN when she learns that MacKenzie is her new roommate! Will Nikki survive her dream tour turning into a nightmare?! ...Show more