$29.99
AUD
Category: Book and Toy Gift Set | Series: Cranky Bear
Theres a monster in the jungle and its gobbling up the trees! It sounds like a job for THE VERY SUPER BEAR!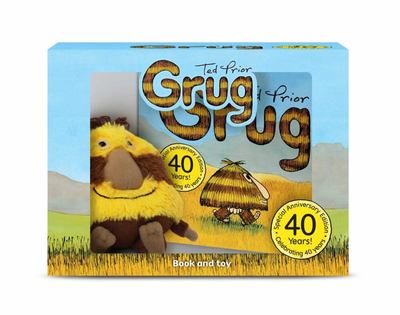 $24.99
AUD
Category: Book and Toy Gift Set
Celebrate 40 years of Grug with an exclusive hardback and soft cuddly toy in this gorgeous box set Once the top of a Burrawang tree fell to the ground ... and the grassy top began to change. It became Grug.   Join your favourite bush character on his adventures with an exclusive hardback edition of the original Grug story and a cute and cuddly soft toy.   Ted Prior's bestselling Grug series is beloved by early readers and parents alike and has sold more than a million copies in Australia alone. His first story was published in 1979 and Ted went on to write 33 more stories featuring Grug and his adventures with his other bush friends, Cara and Snoot.   ...Show more
$29.99
AUD
Category: Book and Toy Gift Set
The perfect gift for a new baby. A beautifully produced board book edition of beloved children's book creator Alison Lester's classic, Kissed by the Moon, packaged in a quality gift box alongside a super-snuggly blanket with satin trim and a beautiful moon and stars embroidered motif. This appealing gi ft set combines the velvety tactile appeal of a blanket for babies to snuggle alongside a board book edition of this classic story to share and treasure. May you, my baby, sleep softly at night, and when dawn lights the world, may you wake up to birdsong. Part poem, part lullaby, this gentle story celebrates a baby's wonder at our beautiful natural world. From much-loved Australian Children's Laureate, Alison Lester, comes a timeless book and gift set to share and to treasure. ...Show more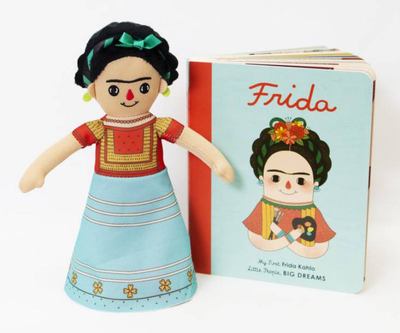 $24.99
AUD
Category: Book and Toy Gift Set | Series: Little People, Big Dreams
This adorably stylish gift set includes a board book version of the internationally best-selling Frida Kahlo--from the critically acclaimed Little People, BIG DREAMS series--and a 7.25" plush Frida Kahlo doll. When Frida was a teenager, an accident changed her life forever. Unable to walk, she began pai nting from her bed. Her self-portraits, which show her pain and grief, but also her passion for life and instinct for survival, have made her one of the most famous artists of the twentieth century. Babies and toddlers will love to snuggle with their own little Frida as you read to them the engaging story of this fascinating painter, and will also enjoy exploring the modern and quirky illustrations of this sturdy board book on their own. Then they can play "artist" with their Frida doll, dressed in her signature bold style, in a light blue traditional skirt and red shirt with a green satin bow tied through her braided updo. Little People, BIG DREAMS is a  best-selling series of books and educational games that explore the lives of outstanding people, from designers and artists to scientists and activists. All of them achieved incredible things, yet each began life as a child with a dream. This empowering series offers inspiring messages to children of all ages, in a range of formats. The board books are told in simple sentences, perfect for reading aloud to babies and toddlers. The hardcover versions present expanded stories for beginning readers. Boxed gift sets allow you to collect a selection of the books by theme. Paper dolls, learning cards, matching games, and other fun learning tools provide even more ways to make the lives of these role models accessible to children. Inspire the next generation of outstanding people who will change the world with Little People, BIG DREAMS! ...Show more
$29.99
AUD
Category: Book and Toy Gift Set | Series: Cranky Bear
On a Jingle Jangle Mountain, as the snow fell on the rocks, a bear was being followed by a very sneaky fox. But Bear was in a hurry, he was running very late, winter had arrived and it was time to hibernate! The Very Cranky Bear is back and this time he has a mischievous fox to contend with...   This best-selling picture book now comes with a Very Sleepy Bear plush. ...Show more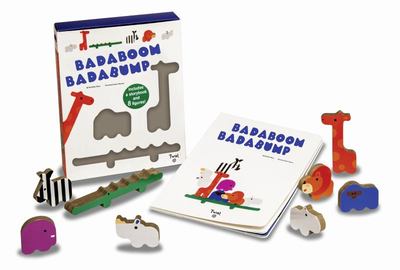 Badadoom Badabump!
by Bartelemi Baou; Xavier Deneux (Illustrator)
$39.99
AUD
Category: Book and Toy Gift Set
Inspiring imagination and encouraging hours of creative play, Badaboom Badabump! is an innovative play set that not only includes a storybook featuring the hilarious cumulative tale of Gorilla's journey to Zebra's house, but also eight sturdy animal figures that are just right for little hands. When Gor illa decides to visit Zebra to play, all his friends want to come along, and soon there is a parade of animals off to see Zebra. But how will they get across the river to Zebra's house? In the end, a good idea becomes a crash-bang-slamming one! Young children can reenact the boisterous drama again and again, using the animal play pieces, or create new stories of their own. A delightful gift for toddlers! ...Show more
Items per page:
1 - 7 of 7