Family
by Aunty Fay Muir; Jasmine Seymour (Illustrator); Sue Lawson
$24.99
AUD
Category: Picture Books | Series: Our Place Ser.
Age range 3 to 9 Family is a thoughtful contemplation for all to learn the different ways that family makes us whole. This beautifully illustrated children's picture book shows everyone that 'family' can be about heart and home; an endless sky; stories and songs. It  'learns' us how to be with each othe r and with Country. Families come in all shapes and sizes, and this remarkably simple story teaches us all, that family can be many things. ...Show more
$22.95
AUD
Category: Picture Books | Series: Eddie's Lil' Homies
In MY PEOPLE with Eddie's Lil' Homies children learn about Aboriginal culture.Eddie Betts is one of Australia's most well know Aboriginal AFL players. Following on from the success of his first book, MY KIND, Eddie aims to educate young Australians on Aboriginal culture which has a unique history dating back over 60 thousand years. Eddie hopes all children can have access to literacy and learning opportunities. This is Eddie's second book and it's all about sharing facts about his mob. It also makes reading fun, so rap or rhyme with your own lil' homies and share it by tagging @eddieslilhomies and #eddieslilhomies ...Show more
My Kind Eddies Lil' Homies
by Bridget Gillard (Contribution by); Megan Gannon (Editor, Editor-In-Chief); Anna Scullie (Contribution by); Jesse White (Illustrator)
$22.95
AUD
Category: Picture Books | Series: Eddie's Lil' Homies
In 'My Kind' with Eddie's Lil' Homies children learn ways to show kindness. When Eddie was drafted to the AFL he faced challenges due to his inability to read or write. Due to this, he hopes all children can have equal opportunities. This is Ed's first book and it's all about spreading kindness and trea ting everyone equally. It also makes reading fun, so rap or rhyme with your own Lil' Homies. ...Show more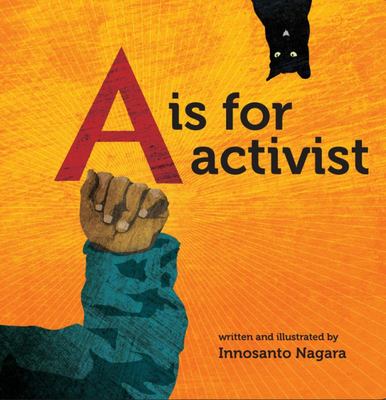 $16.99
AUD
Category: Board Books
A is for Activist is an ABC board book written and illustrated for the next generation of progressives: families who want their kids to grow up in a space that is unapologetic about activism, environmental justice, civil rights, LGBTQ rights, and everything else that activists believe in and fight for.  The alliteration, rhyming, and vibrant illustrations make the book exciting for children, while the issues it brings up resonate with their parents' values of community, equality, and justice. This engaging little book carries huge messages as it inspires hope for the future, and calls children to action while teaching them a love for books. ...Show more
$28.99
AUD
Category: Picture Books | Series: The Official Pokemon Ear
The Rabbits offers a rich and immensely valuable perspective on the effect of man on his environment. Visually loaded and told with a passion for truth and understanding, The Rabbits aims to promote cultural awareness and a sense of caring for the natural world. A rich and haunting allegory for all age s, all cultures. ...Show more
$19.99
AUD
Category: Young Adult | Reading Level: Teen
Remember daughter, the world is a lot bigger than anyone knows. There are things that science may never explain. Maybe some things that shouldn't be explained. Stacey and Laney are twins - mirror images of each other - and yet they're as different as the sun and moon. Stacey works hard at school, determ ined to get out of their small town. Laney skips school and sneaks out of the house to meet her boyfriend. But when Laney disappears one night, Stacey can't believe she's just run off without telling her. As the days pass and Laney doesn't return, Stacey starts dreaming of her twin. The dreams are dark and terrifying, difficult to understand and hard to shake, but at least they tell Stacey one key thing - Laney is alive. It's hard for Stacey to know what's real and what's imagined and even harder to know who to trust. All she knows for sure is that Laney needs her help. Stacey is the only one who can find her sister. Will she find her in time? ...Show more
New Kid
by Jerry Craft
$24.99
AUD
Category: Graphic Novels | Reading Level: very good
Winner of the Newbery Medal, Coretta Scott King Author Award, and Kirkus Prize for Young Readers' Literature! Perfect for fans of Raina Telgemeier and Gene Luen Yang, New Kid is a timely, honest novel about starting over at a new school where diversity is low and the struggle to fit in is real, from aw ard-winning author-illustrator Jerry Craft. Seventh grader Jordan Banks loves nothing more than drawing cartoons about his life. But instead of sending him to the art school of his dreams, his parents enroll him in a prestigious private school known for its academics, where Jordan is one of the few kids of color in his entire grade. As he makes the daily trip from his Washington Heights apartment to the upscale Riverdale Academy Day School, Jordan soon finds himself torn between two worlds--and not really fitting into either one. Can Jordan learn to navigate his new school culture while keeping his neighborhood friends and staying true to himself? ...Show more
$24.99
AUD
Category: Picture Books
Author Thomas Mayor's journey around Australia with the Uluru Statement has been a moving experience. In particular, when he visited schools he was inspired by the children he spoke with. Unlike past generations, Australian children today are learning Indigenous languages, seasons and the truth of this country's history. Some children he met even knew more about the Australian Constitution than most adults do! The expression 'through a child's eyes' is put into practice in the pages of this picture book for 5- to 10-year-olds. Thomas hopes that by talking to the guardians of future Australian generations, perhaps we can all accept what First Nations have proposed in the words of the Uluru Statement:'When we have power over our destiny our children will flourish. They will walk in two worlds and their culture will be a gift to their country.' The final pages offer children ideas on how they can accept the gift offered by the Uluru Statement, such as finding out who the Traditional Owners are of their home city or town, and trying some different local bushfoods With illustrations created by award-winning artist Blak Douglas, this is a timely children's book that complements Thomas's bestselling adult book Finding the Heart of the Nation.   ...Show more
$19.99
AUD
Category: Little People, Big Dreams | Series: Little People, Big Dreams
In this book from the critically acclaimed, multimillion-copy best-selling Little People, BIG DREAMS series, discover the life of Jesse Owens, the great track and field star. The youngest of ten children, Jesse grew up working in the cotton fields of Alabama. Discovered by his high school track and fiel d coach, Jesse quickly rose to fame as an athlete. He went on the challenge racism on the world stage at the 1936 Berlin Olympics and made new world records. This moving book features stylish and quirky illustrations and extra facts at the back, including a biographical timeline with historical photos and a detailed profile of the athlete and activist's life. Little People, BIG DREAMS is a best-selling series of books and educational games that explore the lives of outstanding people, from designers and artists to scientists and activists. All of them achieved incredible things, yet each began life as a child with a dream. This empowering series offers inspiring messages to children of all ages, in a range of formats. The board books are told in simple sentences, perfect for reading aloud to babies and toddlers. The hardcover versions present expanded stories for beginning readers. Boxed gift sets allow you to collect a selection of the books by theme. Paper dolls, learning cards, matching games, and other fun learning tools provide even more ways to make the lives of these role models accessible to children. Inspire the next generation of outstanding people who will change the world with Little People, BIG DREAMS! ...Show more
$17.99
AUD
Category: Fact & Reference Books
Am I my body? Am I my mind? Who am I? Take a trip into deepest inner space to answer one of life's biggest questions. This is a book for anyone who has ever paused to wonder exactly who is wondering.
$24.99
AUD
Category: Picture Books
Briggs is a much-loved hip-hop artist, screenwriter and producer, working on shows such as Matt Groening's Disenchantment and The Weekly with Charlie Pickering. Briggs won 'Film Clip of the Year' and was shortlisted for 'Artist of the Year' at the 2019 National Indigenous Music Awards. ·Kate Moon is a celebrated artist, mainly in animation Rachael Sarra is an emerging Indigenous artist from Brisbane Fresh, contemporary illustration and design – signifying a new chapter in children's Indigenous publishing.   ...Show more
$19.99
AUD
Category: Fact & Reference Books
If you are a kid with big dreams and a passion for what is right, you're a world-changer in the making. There's a lot that can be changed by just one person, if you know what to do. Start by making yourself into the awesome person you want to be by learning all about self-care and kindness. Using those skills, work your way up to creating activist campaigns to tackle climate change or social injustice. This fun and inspiring guide to making the world a better place and becoming a good citizen is packed with ideas and tips for kids who want to know how to make a difference. Through ideas as small as creating a neighbourhood lending library to as important as public speaking and how to talk about politics, How to Make a Better World is a practical guide to activism for awesome kids. ...Show more